Environmental Management
Our Policy
Our Health, Safety and Environmental Policy (HSE Policy)9 articulates environmental management and GHG management commitments across our entire organization. Our INPEX Vision @202210 outlines further commitments to improve our environmental management with the goal of tackling global environmental issues and creating environmental value.
In our business activities, we not only comply with the laws and regulations of the country where the project is implemented, but also promote the avoidance and reduction of environmental impacts on the atmosphere, water quality, soil, etc, as well as the proper management of waste. Together with our efforts to minimize our impact on biodiversity and water resources, we are working to promote efforts that contribute to the creation of new environmental value.
9 Health, Safety and Environmental Policy (HSE Policy)
Corporate Environmental Management Plan
To respond to environmental issues that apply company-wide, we have set five 'corporate environmental targets' based on the status of our business activities, HSE Policy and important INPEX Key Tasks11. We are planning and implementing activities and programs to achieve these targets, and monitor their achievement by way of 10 environmental KPIs.
Since FY2018, we have summarized environmental management activities under our group-wide Corporate Environmental Management Plan with the aim of coordinating environmental management activities—including GHG management—at our headquarters and all operating sites.
The Corporate Environmental Management Plan details the aforementioned corporate environmental targets and environmental KPIs, and the specific activities to achieve them. We apply a PDCA cycle-driven approach to environmental management for projects in all our businesses.
| | |
| --- | --- |
| Environmental Target 1 | Low-carbonization in operations |
| Environmental Target 2 | Environmental pollution prevention |
| Environmental Target 3 | Appropriate waste disposal and recycling |
| Environmental Target 4 | Biodiversity conservation |
| Environmental Target 5 | Effective utilization of water resources |
In FY2022, we will continue advancing environmental management across our entire organization through the PDCA cycle of formulating, steadily implementing, reviewing, and revising the Corporate Environmental Management Plan set in FY2018.
Environmental Management Working Group and HSE Forum (Environmental Session)
The Environmental Management Working Group—consisting of managers and others in charge of the environmental management of projects in Japan and overseas—held meetings in February, May, September, and December 2021. In addition, an Environmental Session was held at the annual INPEX HSE Forum in September 2021. The working group discussed the following subjects in FY2021:
Groundwork for formulating a statement of corporate environmental management commitments
Progress against the environmental KPIs.
The Environmental Session was held online via Microsoft Teams with a total of 40 participants. Operations managers and environmental managers of domestic/overseas projects, as well as representatives from relevant headquarters functions, took part in two days of productive discussions. The main focuses were: (1) internal plans and initiatives for reducing GHG emissions; and (2) drafting of a statement of corporate policies/commitments on water management, biodiversity conservation, waste management and social impact management.
Going forward, we will continue using these opportunities to share good practices of domestic/overseas environmental management with each other, and discuss environmental concerns from various aspects, as part of our pursuit of group-wide environmental management.
Environmental Pollution Prevention
In addition to complying with local environmental laws and regulations, we identify and assess environmental risks associated with each project, voluntarily take measures to address those risks, and track the effectiveness of our actions. Our environmental management measures at the project level aim to prevent pollution at each operating site.
Environmental Compliance
We comply with the environmental laws and regulations of the countries in which we operate. For every project, we make a list of all applicable legal requirements to identify compliance obligations, in line with our HSE Legal and Other Requirements Standard. We also make a legal requirements list for each operator project in Japan and overseas, annually update it to reflect new enactments and changes to laws and regulations, and confirm our compliance with them. In FY2020, meetings on management of HSE legal and other requirements were held with representatives of Corporate divisions in charge of non-operator projects to ascertain the status of related efforts and discuss forthcoming actions.
Furthermore, since FY2019, we have held a services agreement with Enhesa NV—a company which constantly checks/provides the latest information about laws and regulations and comprehensively supports HSE legal compliance—and have been using this service to manage compliance at each operational site. We are developing a system to supervise the status of legal compliance managed by the operational sites from Corporate HSE. As of FY2021, there were no serious violations of environmental laws or regulations.
Preventing Air Pollution
With the aim of preventing impacts to air quality, we monitor and manage NOx, SOx and VOC (volatile organic compounds) emissions from our operational sites in Japan and overseas, in compliance with relevant laws and regulations of the countries in which we operate and with reference to international regulatory trends.
At our operator projects in Japan and overseas, we manage emissions by identifying the sources—such as production processes, fuel combustion facilities, venting of natural gas, crude oil storage tanks, LNG tanks, and shipment by trucks and tankers—and determining the amount of emissions they release.
Our group-wide SOx emissions increased by around 46% to 2,322 tons in FY2021 compared to FY2020. This was largely due to a change in the composition and volume of gas combusted during emissions treatment in the acid gas removal units at Ichthys LNG and the Eagle Ford shale project.
In FY2021, NOx emissions were 3,984 tons and remained the same as the previous fiscal year. Non-methane VOC (NMVOC) emissions in FY2021 were 5,867 tons, down approximately 37% from the previous fiscal year. This decrease was due to the reduction in flaring activities at Ichthys LNG, whose gas contains high concentrations of NMVOC.
Proper Waste Disposal and Recycling
We actively practice the 3Rs—reduce, reuse, and recycle—in our waste management so that we can minimize the use of natural resources and thereby reduce our environmental impact. When we are unable to viably reuse waste generated by our operations, we properly dispose of it via licensed waste service providers. Overseas projects follow a waste management plan established prior to project or operational start-up, which incorporates regulatory requirements, risk management, and audits. For operator projects in Japan and overseas, we conduct annual inspections of waste service providers to monitor their waste treatment and disposal activities to ensure our waste is being properly disposed of. In FY2021, we conformed with COVID-19 safety restrictions by replacing on-site visits with virtual monitoring conducted mainly through remote interviews by telephone or other means.
Inspections of waste disposal services
((n) shows the number of inspections conducted through remote interviews.)

| | | |
| --- | --- | --- |
| | 2020 | 2021 |
| Overseas | 19 (8) | 20 (11) |
| Japan | 23 (13) | 22 (4) |
The amount of waste generated by our entire organization in FY2021 was approximately 42,000 tons. Of the 7,500 tons produced in Japan, around 2,200 tons, or thirty percent, was recycled. The amount generated overseas was approximately 34,500 tons. The amount of waste generated is influenced by business operations. The increase in waste volume in FY2021 is due to excavation work, as well as the production and flowback water (discharged water generated during fracturing work), at the US Eagle Ford shale oil project.
Our "Akasaka ECO Office" carries out activities to promote waste reduction and boost awareness among our headquarters staff.
Activities for FY2021 included the following:
Sharing information on the amount of waste produced by each floor of our headquarters as a way to encourage greater waste reduction
Training to raise awareness of the purpose, methods, and rules for sorting waste
The production and distribution of reusable mugs to reduce use of paper cups and plastic bottles at our headquarters.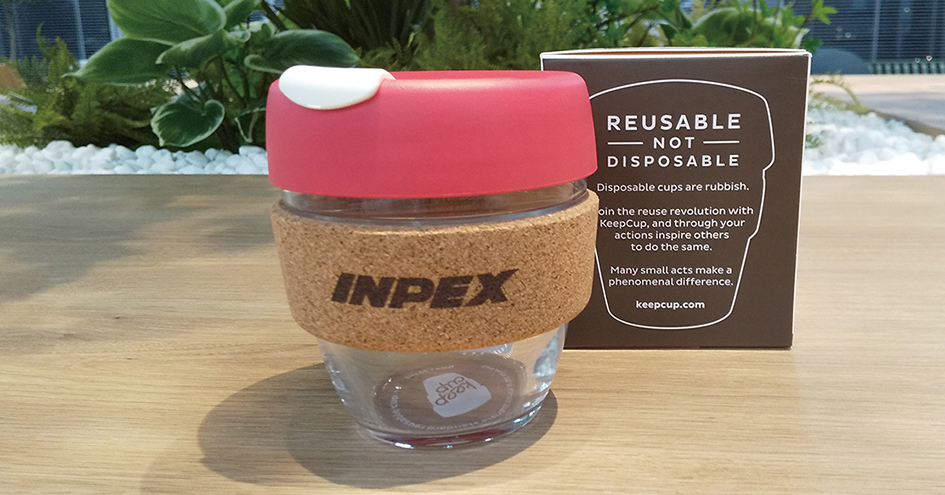 Biodiversity Conservation
Biodiversity conservation is a significant global environmental issue and identified as of INPEX's Key Tasks. We recognize that the degree of impact of our business on ecosystems or biodiversity differs depending on the phase, scale or location of each project—and accordingly, the biodiversity conservation efforts for each project must differ. Therefore, we apply a mitigation hierarchy12 in the development of biodiversity conservation plans for each project, to avoid and mitigate the impact of our business activities on environmentally sensitive areas—e.g. protected areas, critical habitats of threatened species, mangrove forests, coral reefs, wetlands, etc—and to prevent deforestation.
12 Mitigation hierarchy is defined as i) Avoidance, ii) Minimization, iii) Rehabilitation/Restoration, iv) Offset.
Leadership Organization
We discuss biodiversity conservation initiatives in Environmental Management Working Group meetings and at our annual HSE Forum and the results of these discussions are reported to and deliberated by the Corporate HSE Committee.
In FY2021, based on our current efforts and international trends, we identified the following as company-wide issues related to biodiversity conservation, and considered formulating our policies and commitments regarding the identified issues:
Avoid and mitigate the impact to protected areas
Promote a net positive approach
Promote biodiversity conservation initiatives.
We continue our discussions on the formulation of Corporate biodiversity policies and commitments in FY2022.
Protected Areas
Since FY2019, in the geographical information system for each operator project, we have compiled information on protected areas obtained from the World Database on Protected Areas (WDPA)13, and animal and plant species that fall under the IUCN Red List categories. Information is annually updated for the following purposes:
Confirmation if our projects operate in any Protected Area
Initial screening of potential impacts of new projects to Protected Areas
Planning for biodiversity conservation in existing projects.
As of December 31, 2021, INPEX confirms that it is not operating any projects in the Protected Areas.
13 Developed jointly by the following associations:United Nations Environment Programme (UNEP) – a major agency within the United Nations established in 1972 in the environmental fieldInternational Union for Conservation of Nature (IUCN) – an international nature conservation network comprising nations, government agencies and non-government organizations that was established in 1948 under global cooperation
"Net Positive" Approach
INPEX-operated Ichthys LNG identifies negative risks and impacts on biodiversity through environmental and social impact assessments, and formulates and implements impact avoidance, mitigation, and compensation measures based on the mitigation hierarchy. On the other hand, for existing projects that have been operating for many years—such as the ones in Japan—we plan and implement conservation activities and initiatives that will positively impact biodiversity.
In FY2021, INPEX conducted a study to identify the current status and any issues for our "net positive" approach.
In FY2022, based on international trends such as TNFD14, we will continue to consider the introduction of an approach that creates a net positive environmental impact, in addition to avoiding or minimizing any negative impacts on biodiversity.
14 Taskforce for Nature-related Financial Disclosure
Overseas Activities to Conserve Biodiversity
The Ichthys LNG onshore processing plant is located in Darwin Harbour, where extensive mangrove forests along the coast provide breeding and feeding grounds for fish and sea turtles. To protect the rich biodiversity, Ichthys LNG has continued to comprehensively monitor effluent, seawater quality, and growing conditions for mangrove forests and other natural vegetation. We further contribute to biodiversity conservation around the plant by providing grants to marine research projects such as long-term dolphin and dugong studies in the Northern Territory.
Link to the report by Cardno (page 98)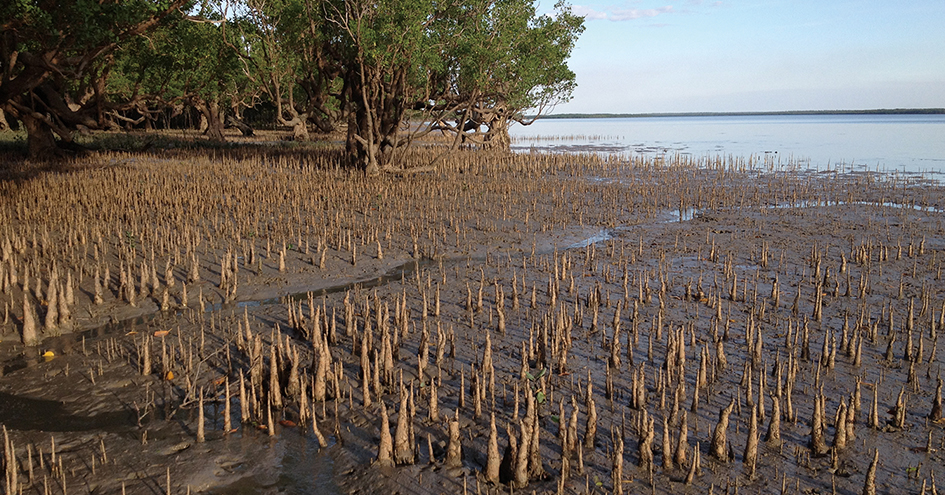 Wild bird surveys at the Onshore Block 4 Project
INPEX has been exploring Onshore Block 4 in the UAE since being awarded exploration rights in 2019. The block is in a central coastal area of the country that encompasses Abu Dhabi.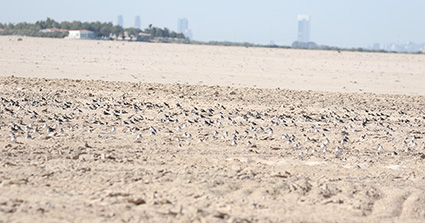 Balghelam and Umm Al Barak, two islands roughly 20 kilometers northeast of Abu Dhabi that are drilling sites for this project, are noted as resting and roosting places for migratory birds. Several times a year, JODCO Exploration Limited commissions a survey of birds inhabiting the islands in order to examine their situation and gather information for developing strategies to mitigate potential project impacts on these birds.
In the surveys in FY2020 and FY2021, ornithologists collected data on the types of birds observed in each area of the islands, their population sizes, and behaviors such as roosting, feeding, and breeding. The findings were used to identify impacts and formulate mitigation strategies for implementation. One of the actions taken was to restrict project personnel and vehicles from going off-road or entering roosting areas.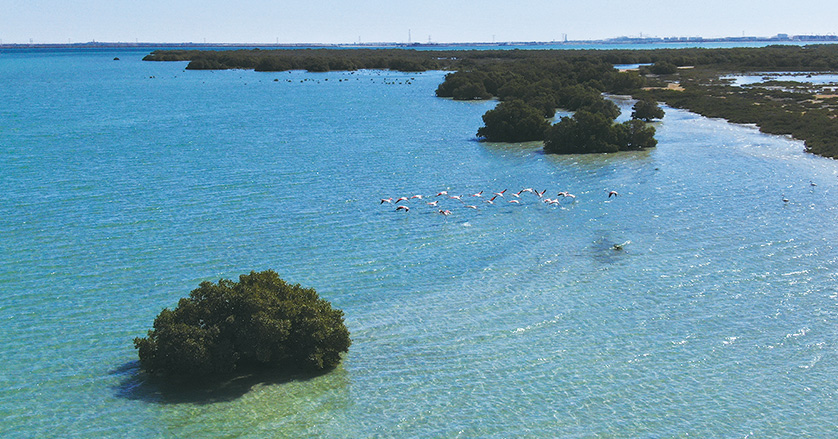 Activities to Conserve Biodiversity in Japan
Biodiversity conservation activities at our longstanding projects in Japan have proactively contributed to the monitoring and management of the environment in which we operate.
At the Naoetsu LNG Terminal these activities include:
continuous monitoring of seawater temperature at the intake/discharge points;
continuous monitoring of water quality of cooling water/discharge; and
marine biological survey of the surrounding waters.
During the terminal's planning stage, we made forecasts on potential environmental impacts of cooling water discharge. Due to the significant level of uncertainty in those forecasts, we conducted two follow-up marine biological surveys: the first, a year after operations began (FY2015-2016); and a second in FY2018-2019. Seawater quality/temperature and marine life (such as benthos, plankton, fish eggs, juvenile fish, and intertidal biota) were monitored once each calendar season to understand the state of the marine environment. The results of the follow-up surveys showed no significant changes from the results of the baseline survey conducted before the start of operations (FY2012-2013).
Activities conducted in Japan include:
raising internal awareness of invasive alien plant species and ways to exterminate them (FY2019);
held a biodiversity lecture with an external expert (FY2019);
educational activities on biodiversity in environmental newsletters (FY2019);
internal preparation of basic biodiversity knowledge, implemented in e-learning (FY2020); and
desktop reviews of ecosystems around domestic project sites (rivers, fishing grounds/farms, forests, biodiversity conservation areas, cultural properties, critical habitats of threatened species).
"Kitsunedaira Donguri-no-mori" Ecosystem Survey
As part of an ongoing forestation support program launched by Niigata Prefecture in 2010, the Kitsunedaira Donguri-no-mori (Acorn Forest) project is being run in Nagaoka City's Fudosawa district, adjacent to the Koshijihara Plant at Nagaoka Field Office.
Planting trees and caring for the forest
Twice a year, our employees work with local residents on forest maintenance, tree planting activities, and holding nature observation meetings for children.
Ecosystem survey
In FY2019, we conducted a simple survey before winter to examine the state of Donguri-no-mori's ecosystem. We observed several species of mammals at the site and several species of birds in the area and the sky above. Based on these findings, we were able to confirm that Donguri-no-mori's ecosystem had improved within those ten years since the initial tree planting.
In FY2022, we will reconduct a survey to investigate seasonal changes in the ecosystem and species of the acorn forest.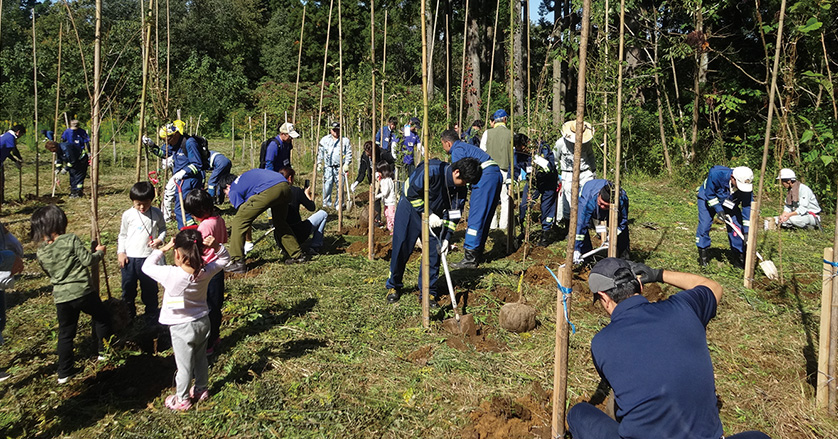 Effective Use of Freshwater Resources
Water resource management and water risk management15 are internationally-recognized issues and we have accordingly designated "proper water management" as one of our Key Tasks16. We have been working to reduce our impact on water resources by managing the water footprint of our operator projects in Japan and overseas, and their discharge of produced water arising from oil and natural gas production. Since FY2015, we have been involved in IPIECA's Water Working Group to stay abreast of international trends in water management and good practices for the oil and gas industry.
15 Water risks: water risks such as securing water for current and future business continuity, and the increasing rate of flooding from extreme weather associated with climate change.
Identification of High Water Stress Areas
We confirm if our operational sites are located in high water stress17 areas using Aqueduct, a water risk mapping tool developed by the WRI18. The tool is used to assess and investigate water availability prior to the commencement of a project. As of December 31, 2021 we have no projects operating in high water stress areas.
17 The amount of water resources available per person, used as an index for assessing the scarcity of water supply versus demand.
18 World Resources Institute
Efficient Use of Freshwater Resources
Our project sites in Japan and overseas use tap water, industrial water, and groundwater as coolants. In FY2021, the volume of freshwater used across our entire organization totalled 2,211 thousand cubic meters.
Groundwater is also used in Japan for cooling in power generation and for melting snow. We are taking action to reduce our water consumption, including by adopting a circulating system for cooling water, and equipping snow-melting systems with sensor-activated automatic shutoff.
At our Ichthys LNG onshore processing plant, we conduct investigations into freshwater use with the aim of reducing consumption. The findings of these investigations are being used to study the feasibility of cost-effective approaches for reducing freshwater consumption by reusing water, such as treated wastewater from processing as well as wastewater and condensed steam from power generation facilities.
Use of Seawater
Ichthys LNG offshore production facilities use seawater for cooling, and the Naoetsu LNG Terminal uses it for heat exchange in the vaporizer.
Mandatory checks of seawater temperature and residual chlorine levels ensure that the marine environment will not be harmed, and that relevant laws and international guidelines are met before the used seawater is discharged back into the sea.
Wastewater Management
Produced water is reinjected underground or discharged into public water sources such as rivers or seas only after it has been treated and confirmed to comply with the relevant effluent standards. We comply with the relevant effluent standards of each country in which we operate, or with international guidelines in the absence of adequate standards at each of our operational sites. In FY2021, 60% of the total produced water (approximately 1.17 million cubic meters) was reinjected, while the remainder was discharged into rivers or seas. Produced water in overseas operations decreased on the FY2020 volume by approximately 0.6 million cubic meters. This is due to a reduction in the produced water volume (including flowback water from fracturing) generated by the Eagle Ford Project.
Development of Effluent Water Treatment Technology
From FY2015 to FY2017, we conducted a pilot project at our Sotoasahikawa plant in Akita Prefecture—in collaboration with Chiyoda Corporation and METAWATER, and with the support of JOGMEC19—to test a produced water-treatment technology using ceramic membrane filtration.
This technology is expected to further reduce the environmental impacts of water discharges from crude oil production. A joint follow-up study with JOGMEC was launched in FY2018, and a pilot test for commercial use of this technology is currently ongoing. We achieved a total operation time of 17,600 hours as of March 31, 2022, constructed a produced water processing facility, and have continued to operate without incident or occupational injury throughout the entire operating period (approximately six and a half years).
19 Japan Oil, Gas and Metals National Corporation