Our Responses to COVID-19
Contributing to energy resilience
We are striving to continue to deliver a stable supply of energy throughout the COVID-19 pandemic by taking action to ensure the stability of our operations. This includes implementing diverse coronavirus control measures that give top priority to the health and safety of employees at our crude oil and gas production sites across the globe—places like our Ichthys LNG facilities in Australia, and Minami-Nagaoka Gas Field and Naoetsu LNG Terminal in Japan.
The Corporate Crisis Management Team (C-CMT) launched in April 2020 has been continuously tracking the infection control situation at our sites around the world. This team has been providing integrated management of the situations at all international offices and project sites, and sharing information on them through regular meetings.
For a summary of pandemic-related measures implemented for employees, see "Workstyle under COVID-19 Pandemic"
Measures
United States
United Arab Emirates
Japan
Australia
United States
Medical screening of personnel entering operating sites; body temperature checks for monitoring against infection
Establishment of response measures and operational recovery procedures in case of outbreaks
Formulation/updating and implementation of infection control measures and response plan based on OSHA guidelines
United Arab Emirates
Requirement for negative PCR test results and infection risk mitigation measures, as specified by guidelines of Abu Dhabi National Oil Company (ADNOC)
Tracking of employee vaccination status using government-designated app
Japan
Restriction of worksite access for persons not on the operating staff
Workplace zoning and designation of backup staff in preparation for potential cases of infection
Launch of "super flextime" system to help reduce infection risk of commuting and enable employees to schedule their work hours to accommodate family needs; recommending employees to opt to telework
Caring for the well-being of employees in long-term remote work conditions
Establishment of response procedures in case of infection
Workplace vaccination program for employees, their families, and personnel of partner companies at three domestic sites
Australia
Creation of special work shifts with quarantine periods, and checking of employees' health before site entry by measuring their body temperature, asking about their physical condition and conducting PCR/antibody testing
Implementation of guidelines for reducing infection risk at project sites, including internal border control (ranking infection risk for each state/territory based on their pandemic situation, and requiring personnel from higher-risk areas to undergo enhanced health checks)
Preventive measures based on risk matrix including PCR testing requirement and other preventive measures customized for offshore facilities.
On-site efforts for stable supply & operation during the pandemic
Ichthys LNG in Australia, the Abadi LNG Project in Indonesia, and operating sites in Japan all achieved stable operation by implementing their own efforts to prevent incidents, disasters, and the spread of the coronavirus, as guided by government directives and regulations. Some were honored in the FY2021 Corporate HSE Awards, which recognize outstanding initiatives implemented by INPEX members.
Insight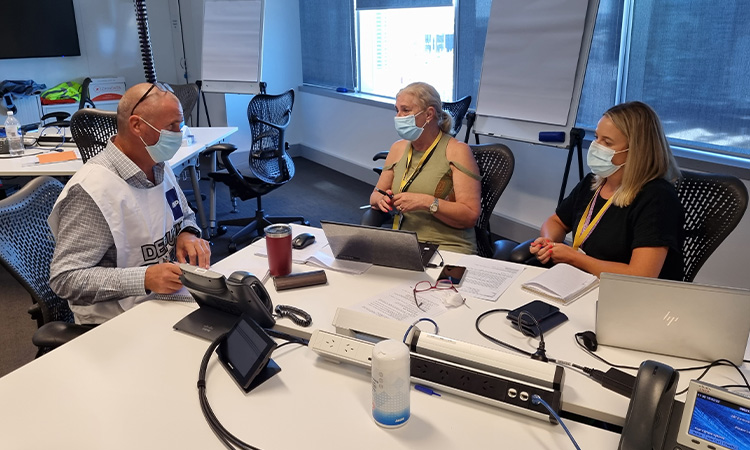 IMT exercise simulating COVID-19 outbreak on FPSO
In February 2022, INPEX Australia conducted a COVID-19 Crisis Response Exercise (IMT Exercise) simulating a coronavirus outbreak on board Ichthys LNG's floating, production, storage and offloading (FPSO) facility. This exercise was conducted in cooperation with internal and external stakeholders to practice and confirm the effectiveness of the initial response and communication via the established chain of communication in the event of a coronavirus outbreak on the FPSO.
The exercise was conducted with participation by the INPEX Perth IMT (Incident Management Team), together with external participants from the Western Australian (WA) State Health Incident Coordination Centre, WA Public Health Emergency Operations Centre, WA Country Health Service - Kimberley Region, and WA Police - Kimberley Region.
The exercise confirmed the effectiveness of the company's internal COVID-19 response plan. Moreover, the company's internal and external communication systems and methods for information disclosure to external parties were confirmed.
Through this training, we were able to develop a more robust crisis response plan and further strengthen cooperation with external parties.
Mental health initiatives during the COVID-19 pandemic at INPEX Australia
The spread of COVID-19 and associated mobility restrictions have understandably had a psychological impact in terms of anxiety and stress. INPEX has responded by taking action to provide mental health care for its workforce.
Ichthys LNG has committed to prioritizing the health and well-being of its people and has set a target that at least 60% of supervisors and managers receive mental health awareness training in FY2021.
The mental health awareness training is a face-to-face course that focuses on common mental illnesses. It was developed by a local professional organization that delivers first aid and health care training. The training covers the following topics:
Insight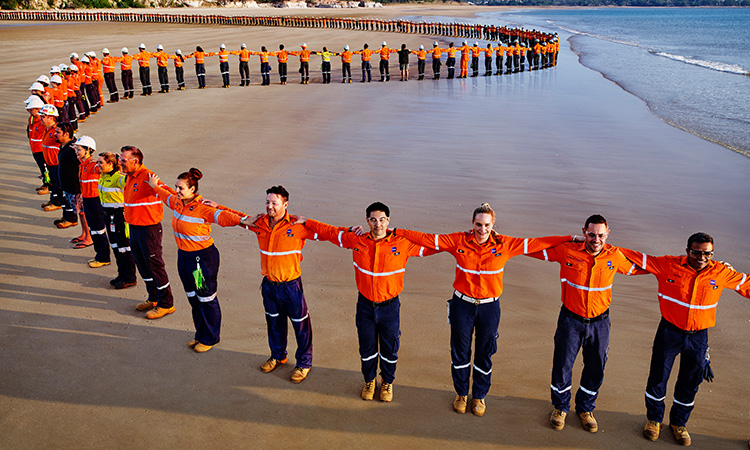 How to recognize signs of stress, depression, and anxiety
How to reach out to people in need of stress care and specific examples of responses
How to support people in immediate need of mental health care
First important step to support people seeking professional care
How to manage one's own mental health
We believe that mental health education will improve understanding on mental health (versus mental illness) and promote its importance in the workplace, and thus enable people to feel comfortable to speak up and seek support.
Measures taken at operating sites in Japan
We are maintaining stable operations at our domestic operating sites by implementing thorough measures for protecting employees from coronavirus infection.
Insight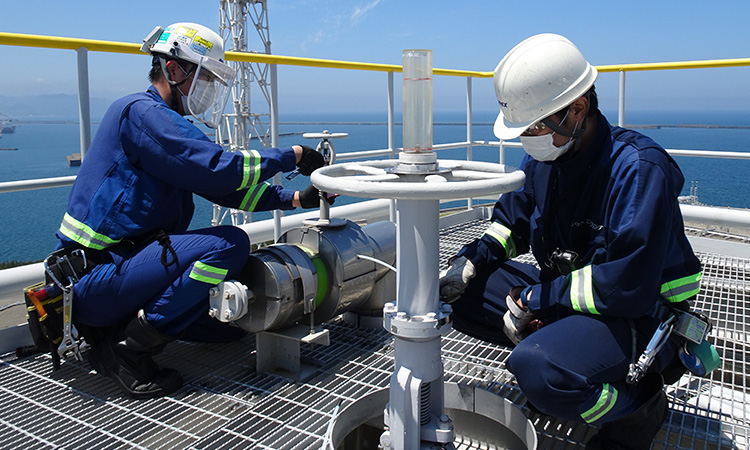 Thorough measures for helping personnel avoid the 3 Cs (confined/poorly ventilated spaces, crowded places, close-contact situations)
Rigorous personal health management and working arrangements that accommodate changes in physical condition, even minor oness
Encouraging employees to limit their going out in public at their discretion, to help prevent infection outside the workplace
Reducing contact between employees at company dormitories, apartments, etc. where possible
Preemptive health management and household health reporting by employees
Zoning of worksites to segregate shift workers on duty from others, using spaces at satellite offices, dormitories, etc to prevent contact as much as possible
Conducting shift change procedures via computer screen and other indirect means to avoid contact between incoming/outgoing shifts
Sharing of pandemic-related information by field office workers at each site
Because of our thorough implementation of these measures, no coronavirus infections occurred among our operator teams at any of our field offices (Nagaoka, Akita, Chiba, and Minami-Aga), thus enabling us to maintain continuous operation.
In Japan, we have established infection control guidelines for each project with the aim of thoroughly preventing infections by engineers entering Japan from overseas, allowing them to complete on-site work without delays. This guidelines includes detailed procedures governing their activities from pre-departure through to return to their home country, and behavior management during their period of stay. It covers infection prevention measures such as physical health management, the sharing of activity history, and behavior regulation. In addition, to prevent the spread of infection at work sites and offices, we have decentralized workspaces by contractor and work zone, installed partitions and disinfecting equipment, and required masks and face shields to be worn. These measures have enabled us to minimize the risk of infection in the workplace and allowed our operations to continue without interruption.
At Naoetsu LNG Terminal, for the first time since operation startup, we upgraded our integrated production control system—the Distributed Control System Human Interface Station (DCS HIS)—while implementing preventive actions against COVID-19 infection. As the DCS HIS is the core system for the monitoring and control of operations, we thoroughly consulted and coordinated with the manufacturer to enable the simultaneous operation of the plant and system upgrade. As plant operators are stationed in the Central Control Room where the upgrade work was to take place, we confirmed upfront the traffic flows of contractor personnel performing the upgrade in that area. We then installed partitions to separate plant operators and contractor personnel, and only allowed simultaneous work to be performed over short periods of time, while also requiring the wearing of face shields and thorough sanitization. These special measures were taken in addition to our standard COVID-19 health protocols. including PCR tests and health monitoring.
As a result of these measures to prevent the infection and spread of COVID-19 among workers, we were able to complete the simultaneous work activities with no interruptions, no spread of the infection, and without any incidents or disasters.
Comment from Construction & Maintenance Group, Naoetsu LNG Terminal
To avoid COVID-19 infection, we engaged closely with our plant operators, the DCS HIS manufacturer, and the upgrade contractor to establish a full understanding of the activities to take place, and from there, were able to implement comprehensive COVID-19 prevention measures at the work site. We were subsequently able to complete the DCS HIS upgrade work in a safe manner, with zero COVID-19 cases.
Supporting communities
Since 2020, we have engaged in diverse efforts for assisting healthcare providers and other professionals working to prevent the pandemic, and for supporting communities disadvantaged in the fight against the coronavirus.
Insight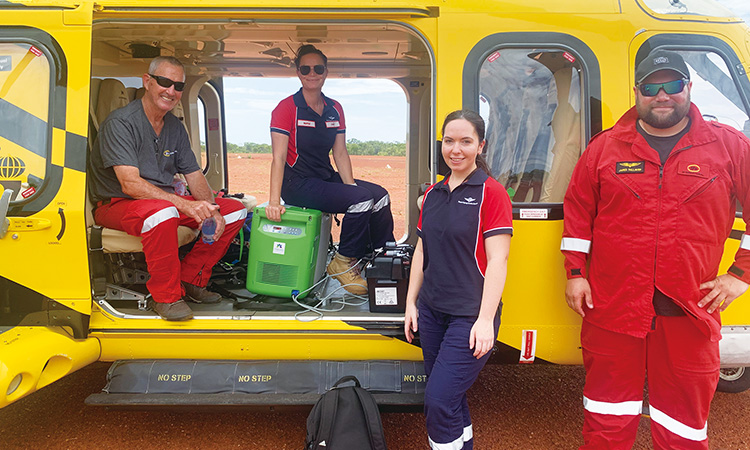 Support for Vaccine Delivery in Australia
Since late 2021, INPEX has been supporting the air transport of COVID-19 vaccines to remote communities in the Kimberley region in northern Western Australia, in partnership with the Royal Flying Doctor Service (RFDS) and PHI. We cover the cost of PHI-supplied helicopters used by RFDS to deliver vaccines during the wet season (usually November to April), when it is difficult to land fixed-wing aircraft in those areas. The vaccines are flown from Broome while kept at a temperature of -70°C. To date, this program has served Aboriginal and Torres Strait Islander communities such as Bidyadanga, Beagle Bay, One Arm Point, and Lombadina.