HSE Management System (HSEMS)
Our Policy
To ensure the successful implementation of the HSE Policy across the organization, we developed the HSEMS Manual in FY2007, referencing standards such as ISO 9001 and ISO 14001. This manual was revised in FY2017 based on the international standards OMS5102 issued by IOGP. OMS510 is dependent on the operation of an HSEMS whose fundamentals are leadership, risk management, continuous improvement, and the implementation of these, as illustrated in the figure below. We continuously improve and implement various plans based on the HSEMS through the use of the PDCA methodology. Our efforts focus on: the preparation and revision of key HSE documents such as corporate manuals, standards and guidelines; establishment of HSE organizations; HSE technical support for project divisions; HSE education and training; periodical HSE audits and reviews; and HSE communication activities.
In addition, Nagaoka Field Office, our largest field office in Japan, obtained and has been maintaining ISO 14001 certification since FY2003.
2 OMS510
IOGP Report 510 "Operating Management System Framework for controlling risk and delivering high performance in the oil and gas industry"
HSE Leadership
We believe that our management must lead the way in our efforts to improve the HSE-mindedness of our employees. Accordingly, our management spearheads our proactive implementation of HSE activities. At our Annual HSE Meeting for FY2021, the President & CEO, Corporate HSE Committee members, heads of divisions and organizations in Japan and overseas, and labor union representatives discussed minor incident reduction, GHG emissions management and mental health management, and identified action items that need to be pursued.
To reinforce the INPEX Value of "Safety Number One", we also conduct HSE management site visits to enable management to visibly demonstrate its commitment to HSE while observing field operations firsthand to better understand the risks involved. The President & CEO and other executives were able to make six site visits in FY2021 amidst the ongoing disruption to business travel by COVID-19. Scheduling their trips to avoid resurgences of the pandemic, the leaders visited: a dormitory construction site in Tokyo's Setagaya Ward in July; a gas pipeline construction office in Saitama Prefecture and the first-stage construction site of the Ryomo Line double tracking project in Tochigi Prefecture in October; and Sakata Natural Gas Co., Ltd. in Yamagata Prefecture, and Keiyo Pipeline Co., Ltd. and Chiba Field Office in Chiba Prefecture in November.
The dormitory construction site visit included an examination of actions taken in consideration of local residents, and measures for preventing heat exhaustion and coronavirus infection. The tour of the Ryomo Line project and construction office involved checking whether corporate rules and guidelines were being presented in an easy-to-follow format in the training for site personnel. Senior Executive Vice President Takahiko Ikeda inspected the progress in HSEMS rollout during his visit to Sakata Natural Gas, and stressed the importance of conducting emergency response exercises. President & CEO, Takayuki Ueda, visited Keiyo Pipeline and the Chiba Field Office, where he reviewed disaster countermeasures implemented based on insights drawn from past typhoon damage. All visits provided the opportunity for management and local staff to frankly exchange opinions on HSE initiatives and challenges.
We also regularly hold HSE-related meetings between Corporate and operator project representatives. These enable participants to share information on the HSE activities at each project, discuss measures, and acquire information from Corporate.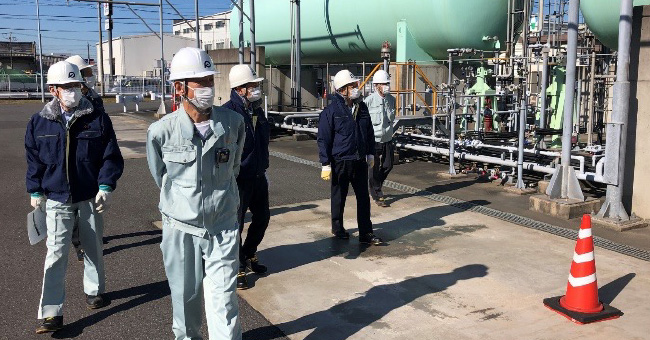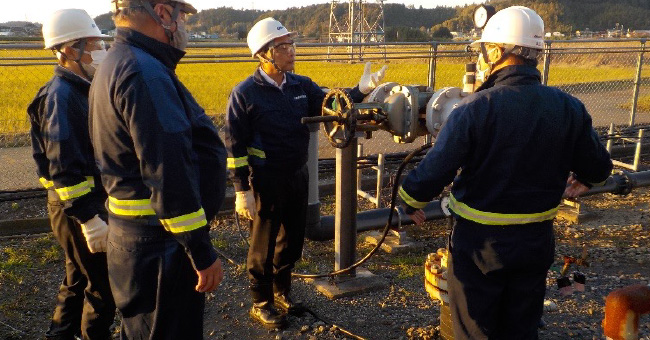 HSE Objectives and HSE Programs
To ensure the continuous improvement of our HSEMS, we set annual HSE objectives, and formulate and execute HSE programs to manage our progress to achieving those objectives.
In FY2021, we revised our HSEMS and formulated new HSE guidelines based on the OMS510 framework. In addition to promoting HSE management in operator projects, we are also stepping up HSE engagement in non-operator projects and businesses for greater efficiency and consistency in HSE activities.
HSE Risk Management Process
HSE risk management is the systematic application of processes for identifying, analyzing, evaluating and responding to HSE risks to minimize negative impacts to INPEX's business activities and operations. HSE risk management procedures are established for operator projects in line with the requirements of HSE risk management guidelines based on ISO31000 and ISO17776. To seek to completely prevent major accidents—as committed in INPEX Vision @2022—we will work to comply with Life-Saving Rules and process safety management.
As part of group-wide efforts to promote HSE risk management, an integrated computer program at headquarters receives quarterly reports on MAE3 associated risks and the other Top 10 Risks at all operator projects. We confirm the reported risks are being managed to ALARP4 level and provide the findings to our Executive Committee.
3 MAEs: Major accident events, referring to events that cause fatalities, injuries, and other serious harm to people and property in the surrounding area. Representative examples include fires, explosions, and toxic gas clouds resulting from major leakages.
4 ALARP: As low as reasonably practicable
HSE Education and Training
In FY2021, we conducted 3,748 man-hours of HSE education and training via workshops, training sessions and e-learning programs. In addition, we continued to provide young engineers in Japan and overseas with other on-the-job training (OJT) opportunities to enable them to acquire practical skills in occupational safety management and process safety engineering.
In February 2021, we revised the Corporate HSE Standard on HSE Competence and Training to identify necessary HSE training for each level and role.
Going forward, we will develop job competency profiles by field for our HSE experts and encourage them to further develop their HSE competencies through OJT opportunities or participation in training sessions offered by organizations specializing in HSE. We will continue to focus on developing and implementing effective education and training programs in FY2022.
HSE Communication
We schedule monthly HSE reports for our Executive Committee and Board of Directors meetings, hold Corporate HSE Committee meetings, and internally share 'Learning from Incidents' information from incident investigations. In these and other ways, we actively pursue HSE communication directed not only at management, but all our employees.
For the purpose of motivating and raising HSE awareness in organizations and individuals, and to improve group-wide HSE performance, we also bestow annual Corporate HSE Awards. In FY2021, eleven awards in total were presented, with the HSE Excellence Award given to one group, HSE Activity Awards to four groups and five individuals, and a HSE Special Award to one group.
Fostering HSE Culture
As part of ongoing efforts to foster a strong HSE culture, we have developed our HSEMS, provide HSE education and training, share 'Learning from Incidents' information and engage in other initiatives under the Corporate HSE Third Phase Mid-term Plan. Aiming to take these efforts to the next level, we have conducted a survey to gauge the state of HSE culture group-wide and at each operating site, and use the feedback to inform the development of specific measures to be taken in the future. The survey was conducted from October 2020 and targeted all operational sites around the world—including our headquarters—with responses received from more than 2,400 employees. Analysis of the feedback enabled us to ascertain the strengths and weaknesses of each operating site. Utilizing the results of this analysis, we will share throughout the company the strengths of both domestic and overseas sites as best practices, while creating an action plan and engaging in activities on points that should be strengthened company-wide. These activities are a continuation of our efforts to reinforce our HSE culture.
HSE Audits
We periodically conduct HSE audits and reviews to evaluate HSEMS compliance at our operator projects, with the aim of strengthening HSE assurance and governance. In FY2021, we conducted risk-based Corporate HSE audits5 for two domestic and two overseas operator projects. The results were used to formulate corrective actions where necessary, based on mutual agreement, with progress in the implementation of those actions tracked. When necessary, Corporate provided HSE support. In addition, headquarters representatives participated in HSE reviews for overseas operator projects, domestic gas pipeline construction projects, hydrogen/ammonia projects, and so on.
5 Risk-based Corporate HSE audits: A methodology for narrowing audit focus to areas with greater risk by considering risks inherent in the organization